Grants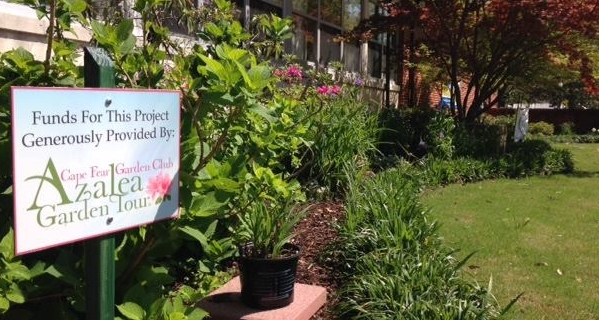 Click here for the 2018 Grant Application
2018 Grant Applications Submission Period is May 1 – June 15, 2018

The Cape Fear Garden Club Azalea Garden Tour©, held since 1953, funds annual grants to non-profit organizations in New Hanover County for beautification, conservation, and educational projects. Funding from the Azalea Garden Tour also supports the North Carolina Audubon Society work on Battery Island bird sanctuary and endowed scholarships to UNCW and Cape Fear Community College.
In order to be eligible for consideration for a grant, your application must meet the following criteria:
1. Applicant must be a charitable, nonprofit organization as defined under Section 170 of the Internal Revenue Code.
2. Your project must be readily accessible and within New Hanover County.
3. All monies from the grant must be applied toward costs of materials for plantings, soil additions or enhancements, and irrigation systems. Grant monies may not be used for labor costs, individual tools, delivery costs, buildings, other hardscapes, or administrative/overhead costs.
Applications for grants from the Cape Fear Garden Club must be post marked between May 1, 2018 and June 15, 2018
Benefits of Grants
Money available to beautify, conserve, educate, inspire, and contribute to people of all ages using horticulture and garden development.  Below is an overview of how recent grants benefit our Wilmington community:
BEAUTIFICATION:
The creation of new gardens and the restoration of existing gardens; adding trees, shrubs; flowers along with hardscapes that will allow people to enjoy the particular area.
Children's Museum – Secret Garden off Orange Street in which area residents, visitors and tourists can rest and relax
Carolina Beach – enhancement of the "Town Gazebo", central to this community
Schools:  Wilmington Christian, NHHS, Hoggard, Forest Hills Elementary, CFCC, Roland Grise Middle, Isaac Bear, Friends School , Gregory Elementary, Lake Forest Academy , St Mary's, Wrightsville Beach Elementary, Noble Middle and Holly Tree Elementary
Juvenile Day Treatment Center – gateway to Wilmington along side of this building
Kure Beach – enhancement of areas surrounding city signs
Lower Cape Fear Historical Society – Latimer House
City of Wilmington – Greenfield Amphitheater
Airlie Gardens – Improve center drive of the gardens with irrigation, plant materials and mulch (2013)
Cameron Art Museum – Creation of a quilt garden from the museum's collection. It is a slave-made tulip quilt. Funding is for all plantings in this garden (2013)
Bellamy Mansion Museum – re-activate 1861 cistern and rainwater harvesting system
Rotary Clubs of Wilmington (for Greenfield Park) – completion of irrigation project and Rotary Wheel for Wilmington Parks and Recreation
Friends of the Battleship North Carolina – Improve Battleship Park with plants, mulch and soil (2013)
Wilmington Tree Commission – 200 azaleas and 9 Live Oaks on Market Street between 4th & 16th Streets
Cape Fear Community College – Beautify the circular courtyard at the Hanover parking deck (2013)
CONSERVATION:
Supports the CFGC's ongoing project at Battery Island which was just increased from $4000 to $6000 awarded each year.  This is a partnership with the Audubon Society with Walker Goldman and includes a bi-annual cleanup with plantings of Yaupon shrubs which help provide nesting sites for coastal birds, in particular the White Ibis which has one of its largest nesting sites right here at Battery Island .  Other recent conservation grant projects have included:
The Arboretum new entrance which will feature storm water best management practice demonstration site (2008)
Cape Fear Community College Foundation – horticultural fitness trail which includes preservation of native carnivorous plants (2007)
Cape Fear River Watch – created an Urban Rain Garden to manage storm water runoff from headquarters building on Surry St; utilized native plants & conservation landscaping techniques to create an education site in front of the building (2007)
Lower Cape Fear Historical Society – Restore storm drains at sides of the 1852 Latimer House and improve irrigation (2013)
North Carolina Coastal Federation – Native plants ans shrubs for rain gardens at Bradley Creek and Alderman Elementary Schools (2013)
North Carolina Land Trust – Supplies for propagation of new plants to restore Venus Flytraps at the Stanley Rehder Carivorous Garden(2013)
EDUCATIONAL:
Multiple grant awards have gone to schools and organizations for the purpose of educating people about how to use plants for conservation, food, landscaping, attracting wildlife, etc.
Airlie Butterfly Garden – CFGC supplied the funds to landscape the entire area surrounding the new Butterfly Garden at Airlie Gardens .
Cape Fear Community College – funds for a greenhouse in which students learn to grow plants (now named the "Cape Fear Garden Club Greenhouse" in our club's honor for our support).  CFCC is also a partner in landscaping Habitat for Humanity homes as a part of their landscaping curriculum
Arboretum – Plant additional 45 camellia plants & companion plants in the former specimen & patio garden
The Davis Community – Create an outdoor destination to draw people from their rooms to experience nature (2013)
Creekwood Community – an ongoing project to raise vegetables, engage community participation, educate and improve the health of area residents
SCHOOLS:
Wilmington Academy of Arts & Sciences – vegetable gardens and a Snow Pea "Tee-Pee" to teach students a scientific introduction to vegetable gardening including the process of preparing beds, planting, composting, harvesting, and eating the crop produced
Communities in Schools – this center for at-risk youth will design, implement and maintain a flower and vegetable garden and hopefully sell the products at the Farmer's Market downtown
Yahweh Center – working garden of flowers, herbs and vegetables including a greenhouse for hands on learning for children
JT Hoggard – shade garden and education for Horticultural students in implementation and maintenance
Bellamy Elementary Garden Club – flower beds to be used in education and to improve self esteem
NHHS – English as a second Language Students will install and maintain senior courtyard plantings
Laney Highschool – Senior class garden, provide mulch and plantings (2013)
INSPIRATION & MEMORIALS:
Lower Cape Fear Hospice received monies to help with a 3 phase project for gardens on the property that will be uplifting to patients as well as to the entire community who visit and contemplate life and death. In 2013 Hospice was awarded a grant to cover all the plantings for new courtyards created as part of the campaign to expand the Pavilion
UNCW students applied for and received a grant to beautify an area on campus and create a memorial garden for students and faculty who have died
Ashley High School TrrM Society – memorial garden
Little Chapel on the Boardwalk – Biblical Garden established on their property off "The Loop" – also educational as to plant materials found in the Old Testament
Wilmington Firefighters' Memorial – Purchase materials for the irrigation system, a load of topsoil and perennials for the garden (2013)
PHILANTHROPIC:
Habitat for Humanity – for 4 years, we have funded plant materials to landscape homes for this organization; CFCC students provide the labor.  Habitat residents undergo a 12 week program to teach them how to own their own home and maintain it.
ENDOWED SCHOLARSHIPS:
Cape Fear Community College
University of North Carolina, Wilmington