CFGC Shop

A Christmas Tea
A unique and special cookbook presented by The Cape Fear Garden Club.
This is a collection of recipes and decorating ideas to make entertaining easy and yet elegant. It's loaded with photos and tips.
89 recipes
Over 100 pages
Recipes by club members from our annual Christmas Tea event
Includes photos of prepared recipes
Only the best recipes chosen by taste test
Makes a perfect gift
Available for $20 (plus tax) at "Dragonflies" in Anderson Square, 4106 Oleander Drive, Wilmington, NC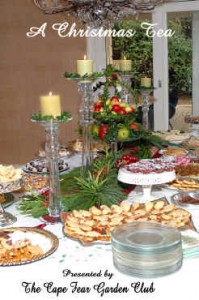 Email Questions to:
cookbook@capefeargardenclub.org
—————————————————
Wreath of the Fifty State Flowers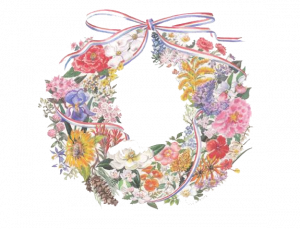 An original watercolor by Myrta W. Spence
Packet of ten note cards $10 | Matted 8X10 Print $15 | Matted 11X14 Print $20
To purchase, please call 910-763-8056
————————————————————————————————————————
Belles and Blooms: Cape Fear Garden Club and the North Carolina Azalea Festival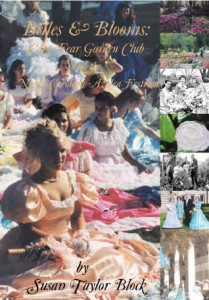 This is a 112-page coffee table-style book by Susan Taylor Block. It is filled with interesting facts, charming tales and many remarkable black-and-white and color photographs.
The book tells the story of the Cape Fear Garden Club, in existence since 1925, and the state's oldest. With over 300 members it is also the second largest in the nation. It also chronicles the history of the Azalea Festival which began in 1948 and became the North Carolina Azalea Festival in 1959. You can read about and see the many festivals and Queen Azaleas. Lots of pages and stunning pictures cover the history of the Azalea Garden Tour from it's beginning in 1953, to the first Belles in 1969, to its Fiftieth Anniversary in 2003. A listing of all gardens featured on all 50 tours is included.
Belles and Blooms is bound in handsome black linen binding with gold foil lettering. The gilded dust jacket, the work of book designer Jane Baldridge, is brilliant with color and rich in meaning. This book is a must for anyone who has ever enjoyed the Azalea Festival or the Azalea Garden Tour, and appreciates the rich heritage of the Cape Fear Garden Club and its countless contributions to the Wilmington community over the years. Susan Taylor Block has done an outstanding job of telling us the histories of these events and organizations and how they twine together.
Free Bonus: An insert with a yearly list of all known Azalea Belles since 1969.
Order and Pay for "Belles and Blooms" Online!
Only $35.00 (plus applicable sales tax and $6.00 S&H)
Secure order processing system – Pay with Visa, MasterCard, Discover, or American Express, via Paypal.
To order, click the button below – the book will be shipped directly to you, or you can arrange pickup and save on shipping. (please indicate your pickup intentions in the comment box during the payment process).