NC Butterfly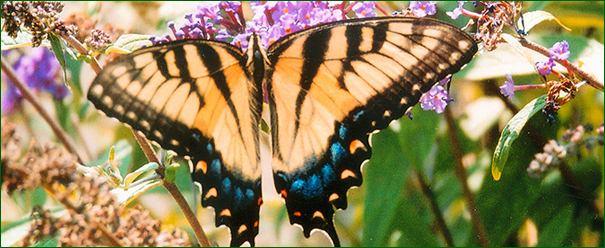 Celebrating North Carolina's New State Butterfly:
Eastern Tiger Swallowtail
North Carolina has a new state butterfly and Cape Fear Garden Club, Inc. is celebrating with the release of "North Carolina State Symbols: Eastern Tiger Swallowtail Butterfly", a documentary highlighting the history, science and worthiness of our new state symbol.  The documentary is the culmination of the club's 2012 state-wide effort to designate the Eastern Tiger Swallowtail as a state symbol.  After gaining the endorsements of organizations and individuals from across the state, the club petitioned State Senator Thom Goolsby, District 9, to introduce the butterfly legislation.  With support from House Representative Susi Hamilton, District 18, the bill was approved in both houses of the North Carolina General Assembly.  On June 15, 2012, Governor Beverly Perdue signed the legislation into law.  "We are thrilled it passed" said Frances Baynor Parnell, co-chair of the Committee to Name a North Carolina State Butterfly.  "Now we are eager to help others learn more about this state symbol and what it means to North Carolina.  Our documentary is the best way to spread the word."  
The ten minute documentary is intended for educational purposes and can be used as an exhibit, short lecture or part of a course of study.  As a designated state symbol, the Eastern Tiger Swallowtail Butterfly becomes part of the North Carolina standards for course of study in the 4th grade.  The documentary is created around this social studies curriculum but also finds favor with adult audiences.  Viewers are invited to develop an interest in butterflying as an outdoor hobby that not only has educational implications but also social, mental and emotional impetuses. "Our goal is for schools, museums, and organizations to integrate the documentary into their existing programs" continues Mrs. Parnell.  The documentary is not copyrighted and may be copied for dissemination.   A limited number of DVDs are available by request.  A downloadable version  of the documentary is available on YouTube at Tiger Swallowtail Butterfly a North Carolina State Symbol.  Click here for a lesson plan with links leading to additional information : Eastern Tiger Swallowtail Lesson Plan
One of the most recognized and commonly seen species, the Eastern Tiger Swallowtail Butterfly (papilio glaucus) is found in all 100 counties in North Carolina.  It inhabits yards, gardens, and public places where all North Carolinians can experience their state butterfly.  In addition, the designation of a state butterfly symbol increases awareness and appreciation of North Carolina's natural resources and ecosystems. 
For more information on the "North Carolina State Symbols: Eastern Tiger Swallowtail Butterfly" documentary, please contact Frances Baynor Parnell at 910-612-0069 or fbparnell1937@gmail.com.   For media inquiries, contact Cindy Godwin, 910-619-9444 or cingodwin@aol.com.
View the "North Carolina State Symbols: Eastern Tiger Swallowtail Butterfly" documentary here: