Civic Projects
Airlie Showcase Garden (established in 2006)
Airlie Showcase Garden was born in 2006 with an Asian design.   Over time the garden had outgrown its borders.  The idea of changing the garden to a Southern Garden was presented at the September 2015 General Meeting.  In late winter of 2016 the Asian garden was torn out and the Southern Garden was completed in early April 2016.
The Southern Garden is filled with Encore Azaleas, Drift Roses, Endless Summer Hydrangeas, Yew Prostrata, and Dwarf Lorepetalum  The border for the garden is white Sasanqua Camellias.  In the spring the garden has the sweet aroma of Confederate Jasmine which covers an arbor at the entrance.  In addition to the plants there are two Red Maple trees that offer some shade.  A slate walkway outlined with Dwarf Mondo grass leads to a white vineyard bench.
The garden has a different but tranquil feeling when it is lite during Enchanted Airlie In November and December of each year.  A committee of 20 Cape Fear Garden Club members maintain the Southern Garden through the year.
Battery Island (established Fall 1996)
In 2016-17 Battery Island Committee highlights the twenty-one-year relationship that The Cape Fear Garden Club, Inc. has in working closely with Audubon NC's Coastal Office and biologists to maintain safe habitats for the migratory birds, specifically the islands in the Lower Cape Fear River where they nest. The Cape Fear Garden Club, Inc. assists Audubon in funding through a standing annual grant and through education outreach by sponsoring the annual Spring Cruise to the Bird Islands in the Lower Cape Fear River each May.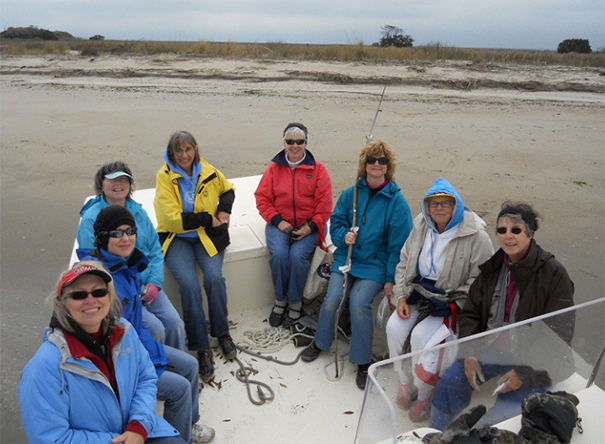 This committee supports Audubon with cleanups on Battery Island in the spring before nesting season begins and the fall after the nesting season is complete. Our main concern is to get debris that floats in off the Cape Fear River and specifically fishing line off the island because of the danger of entanglement of pelicans and other shorebirds. The Committee also does the detailed planning and coordination for The Cape Fear Garden Club for the Spring Cruise to the Bird Islands in the Lower Cape Fear River.
Members of the Battery Island Committee went by boat to the island on October 24, 2016 with Lindsay Addison, Audubon NC's Coastal Biologist. The Battery Island Committee routinely does a fall cleanup of the island, but this cleanup was extraordinary because it was scheduled after Hurricane Matthew. Members collected over 19 large garbage bags of trash in addition to a television and a large foam piece from someone's dock. After Lindsay went to the landfill we learned that our trash collection weighed in at 230 pounds. While we were scattered on the island picking up trash, Lindsay discovered an injured Herring Gull, one of the six types of sea gulls in our area. The gull had a cut on its wing and needed treatment at Sea Biscuit Wildlife Center where it later recovered and was released.
The spring cleanup of Battery Island took place on March 20, 2017, after having been rescheduled three times because of weather and a special project by the NC Wildlife Resource Commission on the bird islands. The cleanup was extremely successful as we collected 500 pounds of debris including 2 floating dock supports and a tug boat rope.
The annual Spring Cruise to the Bird Islands of the Lower Cape Fear River was Sunday, May 21, 2017, during the nesting season. The specific date of our annual cruise depends on the high tide schedule to enable us to get as close to the islands as possible. The cruise leaves from the Carolina Beach Marina. Boarding began at 1:30PM and we returned around 6:30 PM. Committee members helped on the cruise with greeting, boarding, raffle ticket sales, photography and snack & beverage sales.
Birds and Butterflies (established in 1933)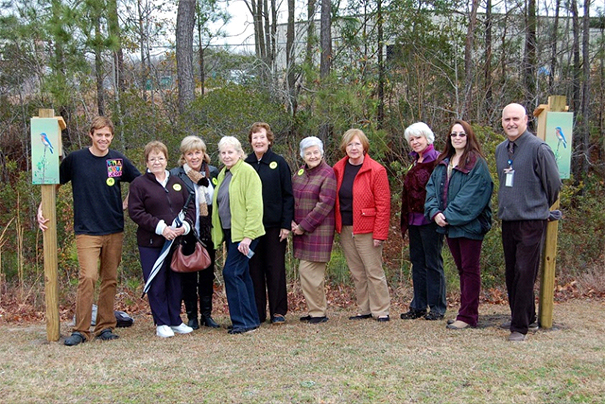 The Birds and Butterflies Committee installed two bluebird trails during the 2016-2017 garden club year. One bluebird trail located at the Seaspray Landing community was dedicated in memory of Doris Ayers who was a member of The Cape Fear Garden Club.  Doris would be pleased to know that her favorite place to sit and enjoy nature is now providing homes for bluebirds.
The other bluebird trail is located at River Bluffs, a LID (low impact development) community overlooking the Cape Fear River. As a designated LID community, it provides a wetland area to temporarily store, filter and clean runoff water rather than using retention ponds. They provide habitat for many creatures such as birds, butterflies, bees, salamanders, toads and frogs. Bluebirds had taken up residence as of spring 2017 at both locations.
The Birds and Butterflies Committee collaborated with the Gardening for Wildlife Committee on the planning and instrumentation of the "Wander in a Winter Garden" event. This event was a new idea created by committee member Frances Parnell.  Garden Club members Karen Root and Sarah Anderson graciously shared their beautiful gardens with club members and their families on a chilly, yet sunny, January day. We observed winter flowering plants and plants that provide food for birds during the winter.
We funded a pollinator garden at Lake Forest Academy through the New Hanover County Arboretum Ability Garden Program. The pollinator garden plants are grown from seed and are planted and will be cared for by the students. Lake Forest is a public school for at-risk students.
Next year we will continue to look at needs for bluebird trails and butterfly gardens as deemed necessary, as well as assisting with community projects that relate to Birds and Butterflies.
Civic Improvements (established in 1934-1938)
The Civic Improvements Committee participated in an outstanding project spearheaded by the Alliance for Cape Fear Trees grant received from the TD Green Streets Initiative during the 2016-2017 garden club year. The kick-off for this project was a canopy workshop. We learned about tree planting and care with the neighborhood residents. We then applied our knowledge in the planting of 50 oak trees with the help of the City of Wilmington, UNCW, CFGC Conservation Committee and many others including the residents of the Houston Moore neighborhood. Our next project was our continued support of Plant an Azalea Week with the New Hanover County Parks Conservancy. We planted approximately three beds along a path leading to the gazebo area in Hugh MacRae Park. Azalea Belles were present along with county officials to commemorate this effort to beautify our parks.
Civic Improvements revisited our project on the corner of Wrightsville Avenue and Independence Avenue to refresh and add annual color in conjunction with the citywide effort of beautification for the Wells Fargo Golf Event and Earth Day. We amended the soil and planted Lantana, and Knock Out Rose bushes. Members also participated in a Trash Mob effort to clean the area at this major intersection in Wilmington.
We concluded this year with our selection of Beauty Spot Awards given during National Garden Week June 1-7

Conservation Committee (established in 1929-1933)
The Conservation Committee stayed busy in the 2016-17 garden club year participating in the Litter Sweep Campaign in both Fall and Spring.  They provided funds to help a Boy Scout with his Eagle project: provided funds to the NC Coastal Land Trust: dedicated to Stanley Rehder Flytrap Fund: provided funds to help reestablish an Ability Garden at Winter Park Elementary School: provided funds to Forest Hill Elementary School to place a bluebird house and feeder in the garden: donated funds to the Birds and Butterflies Committee with their project at Davis Nursing Home: continued their long-standing encouragement to club members and the public to use tote bags that are reusable, when shopping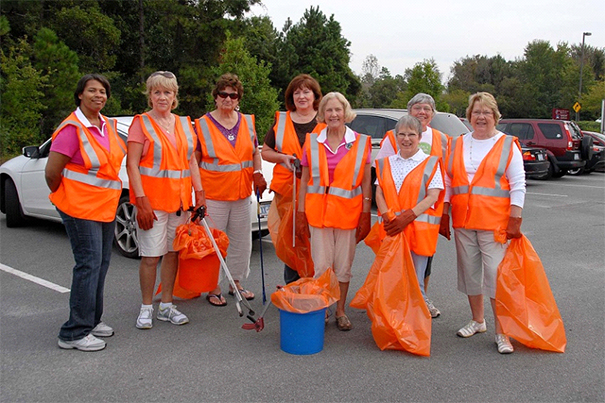 Gardening for Wildlife Committee
The Gardening for Wildlife Committee's mission is to educate the public on how to create a wildlife habitat according to the National Wildlife Federation's guidelines.
We helped organize and participated in New Hanover County Arboretum's 2016 Native Plant Festival. Activities included educating participants on how to create and certify a wildlife habitat and helping children create over 50 birdhouses.
The wildlife habitat at the Cape Fear Museum that we created last year was enhanced this year with native wildlife friendly bushes, trees and perennials. Three birdhouses and a birdbath were also added.
Committee member, Barbara Downing, educated New Hanover County students by working with NHCS TLN TV in creating The Cape Fear Garden Club's televised program Gardening & Nature. Segments included such topics as: 'Bees and Pollination', 'Trees and Their Importance', 'Gardening for Nature', and 'Composting'.
Members also helped in the preparation and participated in The Cape Fear Garden Club's event "Wander in a Winter Garden" by hosting at one of the gardens and managing a "Woodland Nymph" (Sherry O'Daniell, pictured to right) who wandered into the garden.
We also certified and presented Bradley Creek Elementary School with a sign and plaque that labeled them as a "Schoolyard Wildlife Habitat" according to the National Wildlife Federation.  We presented their library with three nature books, The Curious Nature Guide, The Practical Naturalist and Nature Anatomy, that will aid both teachers and students in learning more about the wonders of wildlife, trees, & vegetation.
Media & Communication Committee
The Media & Communication Committee  had a year of transition 2016-17. The Cape Fear Garden Club stands at the precipice of change as it goes from using 20th Century forms of communication to embracing 21st Century forms of communication. A new Mission Statement was written and introduced for the first time at the New Member Orientation, and the committee is re-working the verbiage for Media & Communication for the club yearbook. Other exciting moves for Media & Communication include the future creation of a member app, use of a central digital archive, and re-alignment and control of social media such as Facebook.
Media & Communication has also been involved in several new opportunities to share The Cape Fear Garden Club's objective of cooperation with other agencies to further interest in the art of gardening and particularly horticulture. Aaron Oliver of the NHCS TLN TV provided the Club with a platform for disseminating information to the New Hanover County Schools. Working with Cathy Giannini, Chair for Youth Garden Clubs and Sherry O'Daniell, Chair of Gardening for Wildlife, a new form of programming was created. Gardening and Nature segments have been aired on NHCS's THE MORNING SHOW. Seven episodes have been written and filmed; two about bees, one about Certified Wildlife Habitats, one about winter gardens, one about trees, and two about the school gardens at Wrightsboro Elementary. In addition, The Cape Fear Garden Club participated on Sunday, June 4, 2017, in Cape Fear Museum's PATIOS, POOLS & the INVENTION of the AMERICAN BACKYARD which is a traveling exhibit from the Smithsonian Institution.
Youth Garden Clubs Committee
In 2016 the Youth Garden Club Committee welcomed Mary C. Williams as the third CFGC Youth Garden Club under our wings. Through grants we have supported many of the Club's gardening projects including five raised beds, a greenhouse and several fruit trees. With these additions, the children have grown vegetables throughout the year and offer them to children who visit the school library during the summer months.
Bradley Creek Elementary School finished their work making a part of their campus a Certified Wildlife Habitat. The first-grade students made a special effort to learn about a variety of birds and plants that live in our coastal area. This spring North Carolina Governor Roy Cooper visited the school and talked with the classroom about their achievements.
At Edwin Anderson Elementary School, two full classrooms participate as one club called "The Kinder Gardeners". The children learned about our state symbols and why each one is important to North Carolina.
This year all three of our clubs are growing butterflies and learning about the life cycle of this very valuable insect. The classroom teachers have enriched the project by creating language arts and math lessons as well as incorporating the theme into many forms of art. Each school has made the whole student body aware of the butterfly release celebrating their return to nature so that another life cycle can begin!
CFGC had Darene Honeycutt, The Garden Club of North Carolina Third Vice President and Chair of the State Youth Garden Clubs, as our March guest speaker. She inspired the membership to support the youth clubs with her presentation entitled "Sowing Seeds for Future Generations". In March, the three clubs applied for seven state awards. Last year, we won 11 awards!
Cape Fear Garden Club Beautification Endowment
The Cape Fear Garden Club Beautification Endowment continues to grow and provide benefits to our City and County. The Endowment's balance as of December 31, 2016, was $51,255.05 thanks to donations from individuals and local institutions, most notably First Citizens Bank. This year $1,112.50 was granted to the Parks Conservancy of New Hanover County specifically designated to landscape the gazebo and lake area at Hugh MacRae Park with hydrangeas, azaleas and hostas.